"Stay Together for the Kids" is the third single from Blink-182's record Take Off Your Pants and Jacket. Although Mark Hoppus sings the song's two verses, Tom DeLonge, who sings the choruses, wrote this song about his parents' divorce during his teen years. The song is available as DLC for Rock Band, the video game.
Background                                                                             
[
]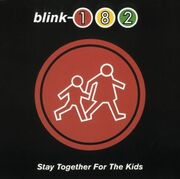 During the 2009 tour, Mark dubbed the song as a definition for their reunion, stating that the band has done exactly what the lyrics of the song state: that they have been together, broke up suddenly and unexpectedly, and then reunited to continue doing what they love most.
Meaning
[
]
"Divorce sucks. Its so fucked. But hey, I'm not the only one to go through it. I guess parents are people too. Just lock yourself in a room, mine was my personal sanctuary."
Music video
[
]
The band originally started shooting the video for the song on September 10, 2001, and originally featured the band playing in a derelict house that was hit by a wrecking ball and fell apart during the song's progression. The next day when they went to finish the video, the September 11 attacks occurred, and both the band and director Samuel Bayer opted to re-shoot the video, as they felt the images of the house coming down were too similar to the images of the attacks in New York. The original version of the video is only available on a few of the band's DVD releases, as well as on YouTube.
They re-shot the video several weeks later with a similar theme, although this time the house used wasn't on the verge of falling down. Instead, winds swept through the band's performance during the song's chorus, and the house didn't come down during the video. The same extras were used in both versions of the videos. The scene where the house is hit by the wrecking ball can be also seen in the video for "Not Now".
In the video for the song, Skellie, the mascot of the punk rock band Social Distortion, can be seen in the empty pool.