Lemmings is a split single with Blink-182 and another band called Swindle. Released on black and yellow vinyl, it was released before Dude Ranch, the album on which the song Lemmings was featured.
Description                                                                                      
[
]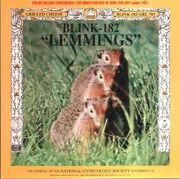 The song is about an old friend of Mark's who expected everyone to follow what he said because he thought it was correct. Most of the time what he thought was correct was just really idiotic. He expected us to be lemmings...
Lemmings are animals which follow one another, and run off of cliffs into the sea to their deaths.
Track listing
[
]
Side one
Blink-182 - "Lemmings"
Side two
Swindle - "Going Nowhere"
Swindle - "One Track"