"First Date" is the second single from Blink-182's album Take Off Your Pants and Jacket. It was written by Tom DeLonge (guitar and vocals), on the same night that Mark Hoppus (bass and vocals) wrote "The Rock Show". Both "First Date" and "The Rock Show" were written in response to producers' concerns that Take Off Your Pants and Jacket lacked catchy singles.
In popular culture                                                                 
[
]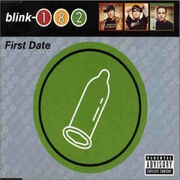 "First Date" is featured on the video game Guitar Hero: Van Halen (strangely, the song is also available with a different chart as part of Guitar Hero 5s downloadable content library). The song is also part of Rock Band 2's downloadable content catalog. It is also featured on the U.S. edition of the compilation album Now That's What I Call Music! 10 (2002). "First Date" was used in the 2002 science fiction film Clockstoppers, and can be heard in the trailer. "First Date" is also featured in an episode of the British television show "Top Gear" specifically Series 8, Episode 1.
Meaning
[
]
"It's about two men kidnapping a girl and taking her to the Pacific to drown her and then the men later on commit suicide so they can be together forever. she fucking dies. They now all live in hell where they can party forever"
Music video
[
]
The video was directed by The Malloys and released in 2001 but set in 1974 El Segundo, California. It was filmed in Burnaby, British Columbia, as well as Splashdown Park and the F440 Racing Challenge, both in nearby Tsawwassen.
The video features the band with the long hair clothes from the mid-1970s, and has the band members parodying bands like the Bee Gees. The end of the video has spoof titles as to what band members are doing now. Similar to the end of the 1978 film National Lampoon's Animal House.
There are two versions of this music video, the longer version includes two band members talking in the beginning. At the start of the longer version, before the band begins playing, Tom DeLonge tells Mark Hoppus how he ended up kissing his brother. Hoppus replies, "You know what they say: 'Like Father, Like Son.'" Tom DeLonge says, "You said it best, brother." It also includes an interruption where in the video a baseball bat flies out of the hands of Chad Gilbert of New Found Glory and ends up in the front tire of a girl's bicycle, causing her to flip forward over the handlebars. Her headgear scrapes the road. This happens after the line, "I'm probably gonna miss."