"
Down
" is the third single from
Blink-182
's 2003
self-titled
album. It was released in June 2004. The song peaked at number ten on the
Billboard
Modern Rock Tracks chart, but quickly fell off and was a mixed success. It is the band's tenth song to reach the top 10 on the chart. It peaked at number 24 on the UK Singles Chart. It has also been released as a downloadable track for the
Rock Band
video game.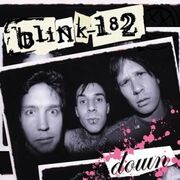 Background 
Edit
According to Tom DeLonge in the liner notes of the album, the song came from a picture he had in his head about a girl and a boy in a car with it raining outside (hence the 'Down, Down, Down, Down' chorus) and how much the boy wants to kiss her and make her stay (another reason many suspect for the chorus). It has also been said that this was an "ode" to Mark's ex-girlfriend, before he met his wife.
An alternate arrangement of the song is available on the "Part 2" single, called the "T.L.A. Arrangement", which was done by the song's mixer Tom Lord-Alge. It is slightly different, featuring an extended ending where Hoppus's vocals are sung over the main chorus instrumental. Also the main guitar riff is panned completely to the left as opposed to it having a small presence at the right on the main version.
At their August 29, 2009 show in Hartford, Blink played this song after their tribute to DJ AM.
Music video
Edit
The music video features aerial footage of Los Angeles and the band attending a backyard party. A police officer, played by actor Terry Crews, enters the party in search of a gang member, who escapes, and whom the officer pursues. At one point in the video, Crews clearly mouths the word fuck as the gang member escapes over the wall.
Travis Barker recorded the video with a broken foot.