Over the years, Blink-182 have used many logos.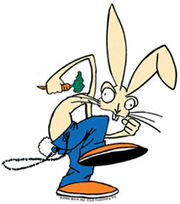 Mark Hoppus said this logo was conceived by the ex drummer of Blink-182, Scott Raynor. Mark said that this bunny was created by drawing the Alice in Wonderland bunny in a circle.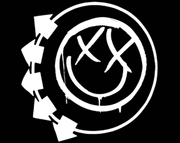 To support the new album, Blink-182. The band decided to create an entirely new logo, a "smiley face" with X's for each eye and five arrows on the left side of its face. According to Barker, the Blink-182 logo originated at his clothing line, Famous Stars and Straps. Barker wanted to brand an icon for the band: "It just had to be a cool kind of happy face but I wanted arrows. You know, like The Jam were my favorite band, they always had arrows in their logos and stuff. It was just kind of inspired by pop-art."
Fans have compared the new logo to Nirvana's smiley.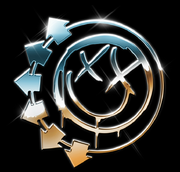 To show a revitalized blink-182, the band decided to turn the logo from plain coloring to chrome while adding a new arrow to the logo.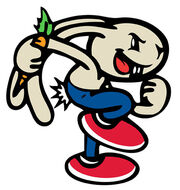 The band modernized thanks to Travis putting some street culture into the bunny. However, Tom DeLonge views the new design as half elements of Japanese and half elements of street culture.
Tom DeLonge, Honda Civic Tour Interview: "But it's still young and angsty. And I think that's at the end of the day that's really a large part of our band"
Community content is available under
CC-BY-SA
unless otherwise noted.